How to Choose a Best Hydrating face Primer Suitable for Your Skin?
To find the best hydrating primer for dry skin, you must evaluate what issues you have with your skin and find a formula that would help address your specific problems.
Foundations are not really of great help when your skin is on the dry side.  It tends to create flaky patches on your skin after application, and usually cakes around the crevices of your skin. Board-certified dermatologist Jeannie Downer says, "Foundation does not go on well when your skin is dehydrated, dry, and rough". Putting on a rich moisturizer can help to prep your face for putting on makeup, but a hydrating primer can help you smooth things over and give you just the right finishing touch.
Primers designed to serve dry skin usually contain ingredients that go into moisturizer and have a milky or creamy texture, which, in the words of makeup artist Nicole Walmsley, "can add beneficial hydration, plumping the skin and minimizing the look of fine lines and wrinkles".
Hydrating primers feel like cream, gel, or mousse. If your skin doesn't have an exact type but can feel too dry at times, you may prefer a light gel, whereas people with an extra-dry complexion might want to use a cream-base.
The following are an expert-approved assorted pick of best hydrating primers which will compliment your dry skin.
20 Best Hydrating face Primers for Dry Skin
Not only does a good hydrating primer hold your foundation and other makeup in place, but it complements your efforts at skin care, all while blurring fine lines, acting as a moisturizer, and making any large pores, blemishes, or other skin concerns disappear. A good primer is as good as magic.
1.  LAURA MERCIER Foundation Primer – Hydrating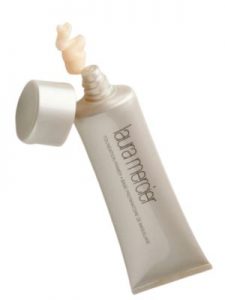 This is meticulously formulated to nourish normal as well as dry skin and gives you a natural dewy finish with long-lasting power. This moisturizing primer is soothing to sensitive skin as well. It has a natural, soft-focus effect that blurs fine lines and pores, just like the perfect Instagram filter.
It's dermatologist-tested and hence, reliable, and is packed with anti-aging antioxidants.  If you have acne-prone skin, this primer also happens to be non-comedogenic, so it won't clog your pores. This primer is guaranteed to give you a moisturizing glow.
You can buy from amazon.in
2. CIATÉ LONDON Watermelon Burst Hydrating Primer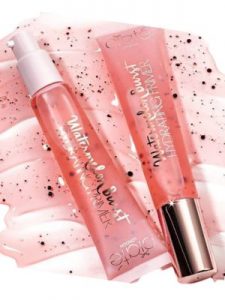 This Primer has a rejuventating watermelon scent. It soaks right into dry skin and holds your foundation, highlighter, and concealer in place. The pink jelly base brightens your skin, and the watermelon extract  has a hydrating formula.
For an extra dose of skin care, this vegan and formula is also made with hyaluronic acid, vitamin E to keep you moisturized and dewy in areas you want it to but matte in other areas.
You can buy from ipsy.com
3. FIRST AID BEAUTY Ultra Repair Hyaluronic Hydrating Primer
This Primer is just right and works
beautifully dry and combination skin. This paraben- and oil-free primer contains hyaluronic acid – you can wave goodbye to flaky skin and welcome long-lasting moisture with open arms.
Colloidal oatmeal is known to calm sensitive skin. You can top off your sunscreen with it.
You can buy from ipsy.com
4. Hydrating Pure Canvas Primer by LAURA MERCIER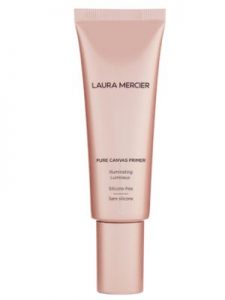 Walmsley and Dr. Downie both swear by this beauty industry go-to product by Laura Mercier. "Enriched with moisturizing glycerin, squalane, and olive extract", this primer instantly smoothens the skin while also delivering a hydration boost. It offers a seamless canvas for the makeup you put on top.
You can buy from nordstrom.com
5. Hello FAB Coconut Skin Smoothie Priming Moisturizer
Hello FAB Coconut Skin Smoothie Priming Moisturizer product which has rave reviews is packed with hydrating coconut water, a skin-healthy mineral blend, and quinoa protein. First Aid Beauty's primer checks all the boxes in requirements for dry, rough skin types. It's oil-free, light in texture, and leaves the skin ostensibly brighter.
You can buy sephora.com
6. L.O.C.K. Unicorn GLOW Hydrating Primer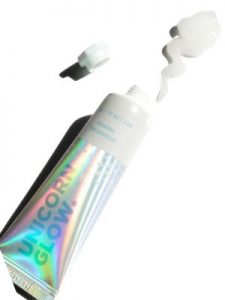 Your skin is bound to find a glow after having used this product. It's formulated with hydrolyzed collagen, which helps build and repair skin, hyaluronic acid, and herb extracts. It's a healthy choice that will do the inside-job on your skin maintenance.
Rub it on after putting on sunscreen and before your foundation for face makeup that will last you long days. As a bonus, the bottle looks adorable!
You can buy from ipsy.com
7. BAREMINERALS Good Hydrations Silky Face Primer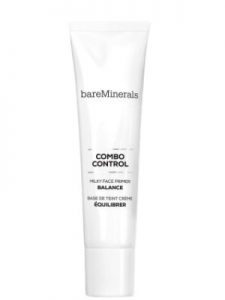 This Primer is a hydrating and nourishing superpower – it nourishes flaky skin, while making sure your makeup sticks up for the day. The mineral blend has a hint of an iridescence that flatters all skin tones.
Make it a point to put it on after your normal skin care routine and before your makeup, and it's exceptionally versatile.
Hyaluronic acid, glycerin, and coconut alkanes contribute to the glow, and because it's paraben and gluten free, it's also safe for sensitive skin.
You can buy from strawberrynet.com
8. KOKIE COSMETICS Smooth Glow Hydrating Foundation Primer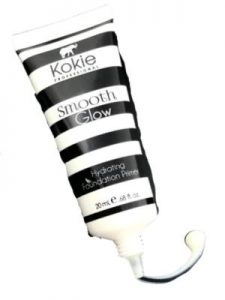 This Foundation Primer has a dewy finish.  It is oil-free and infused with vitamin E for a hydrating, moisturizing finish. It provides a smooth surface for seamless blending and takes all the trouble out of make-up application.
You can buy from amazon.com
9. PÜR COSMETICS 4-in-1 Correcting Primer Hydrate & Balance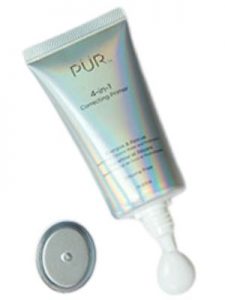 This is a deep hydrating face primer that prepares your skin for a matte look. It eliminates flakiness and dry patches, and makes you good to glow. It's ideal for dry and acne-prone skin. Lavender extract helps to soothe the skin.  The glowing softness lasts up to 72 hours.
You can buy from amazon.com
10.  TOO FACED COSMETICS Hangover Primer: Replenishing Face Primer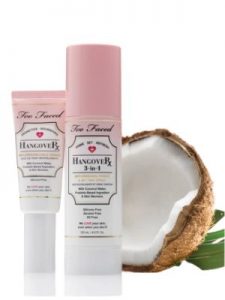 This Face Primer is there for you after a night of too much partying, when it feels like nothing can cover up those dark circles and the shadow-tinge in your face. It is the antidote to redness, puffiness, and dehydration. Your makeup is bound to stay on longer after applying this primer.
The skin-brightening formula gives it a dewy finish, thanks to hydrating coconut water,  and thus, even without a concealer, you can bright,  fresh and ready for the next day.
You can buy from ipsy.com
11. Airbrush Away Original Primer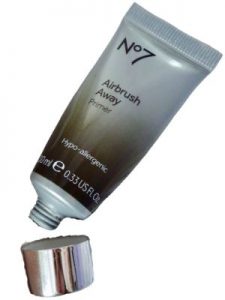 Airbrush Away Original Primer is said to be the best primer for dry skin by many users. Approved by the Good Housekeeping Seal, this makeup primer has moisturizing and anti-aging benefits.
Its plumping, hydrating hyaluronic acid spheres instantly soften wrinkles and blur creases and drawbacks with a filter-like touch. After use, 81 per cent of testers said their skin looked smoother and glowed.
You can buy from amazon.in
12. Hydrating Face Primer by ELF Cosmetics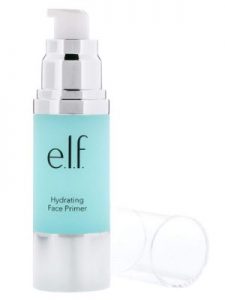 Hydrating Face Primer by ELF Cosmetics is a top-rated product on Amazon. It is infused with grape-seed oil and users have reported that their skin feels smoother after using it.
You can buy from amazon.in
13. Sun Face Lotion + Makeup Primer by OLAY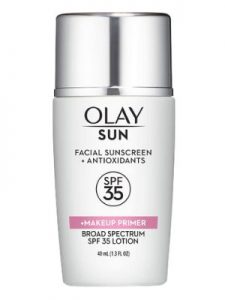 The Olay lotion primer is made with SPF-35 sunscreen and like vitamin E and fatty acids, which are well-known skin-softeners. According to GH Beauty Lab evaluations, "70 percent of testers found it prevented foundation from cracking or creasing even after eight hours of wear", as reported by Good Housekeeping.
You can buy from amazon.com
14. KIEHL's Micro-Blur Skin Perfector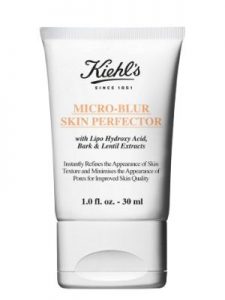 If you're looking to combat dryness and pores together, this is just the product for you. It improved testers' skin texture by 25% immediately after application through digital imaging with the Lab's Visia Complexion Analyzer device. It was given a near-perfect score for a "smooth appearance" and "silky feeling," among users and it also scored well in minimizing pores.
You can buy from amazon.com
15. Backstage Face and Body Primer from Dior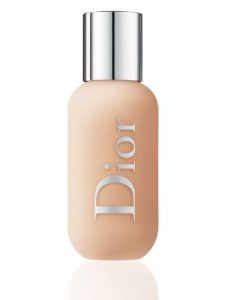 If the name gets you excited, it should. This Dior face primer containing and founded on glycerin and shea butter is a  luxurious choice. "It seems to hydrate and plump my skin immediately and give it a soft-focus finish," says a Good Housekeeping Lab Director.
You can buy from amazon.com
16. Maestro UV Skin Defense Primer Sunscreen SPF 50y Giorgio Armani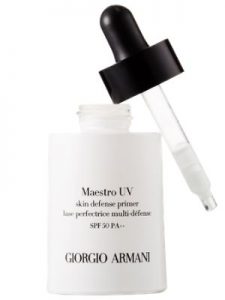 This is the best product to fight back dry skin and wrinkles. In spite of having a high level of SPF 50!, this Giorgio Armani liquid primer is known to not have any effect on the skin's barrier.
You can buy from strawberry.net
17. Face Primer by Glo Skin Beauty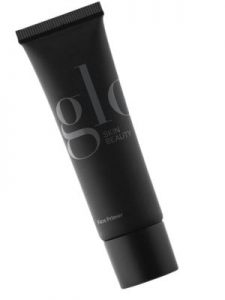 Glo Skin Beauty's face primer is made of plant extracts and oils that soothe the skin. "Great primer for dry skin that makes foundation apply so much easier and blends out seamlessly, making skin look glowy and healthy," says feedback by a reviewer.
You can buy from amazon.com
18. FaceStudio Master Prime Primer Hydrate + Smooth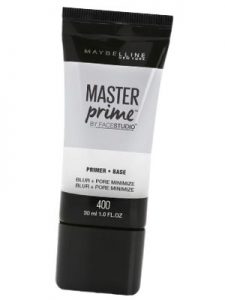 This is your go-to if
you're looking for an addition to your skincare routine. I personally love FaceStudio Master Prime Primer because it falls within my comfort zone.
It contains an assortment of dry skin softeners – botanical  oils from apricot and shea butter, and glycerin. This Maybelline primer is top-rated among the internet crowd.
You can buy from amazon.com
19. Top Secrets Instant Moisture Glow by Yves Saint Laurent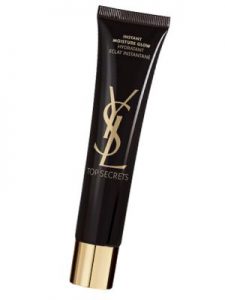 This makeup primer gives the skin a flawless appearance. It triples as a moisturizer and makeup refresher and is top-rated on Nordstrom.
You can buy from amazon.in
20. Hydro Grip Primer by Milk Makeup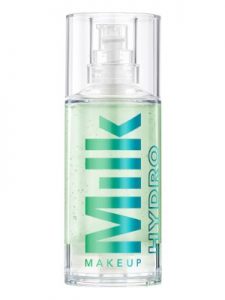 This makeup primer has five stars from reviewers for making the skin look radiant. It will give you a goddess glow.
You can buy from amazon.in